There are many skins in agma.io.Skins of:
1.Levels
2.Gold Members
3.Free
4.Buy with coins
5.Custom
So the custom lets you to add your own skin made by you or someone else.
It costs 1m coins for 1 custom.You can buy many customs slots.Once you bought the custom.Add the skin you want.The skin must be of the sizr recommended by agma.io.Once you uploaded the skin,it is held for review...if the skin is according to terms of agma.io it will be uploaded after a day or takes less time..Here are rules and terms for adding a custom in the 1st picture.
Once it is uploaded you can see your skin in custom slot...
There is no expiry time for custom and there is a option to change skin but you will be able to use this option after 30 days...you can see in the pic.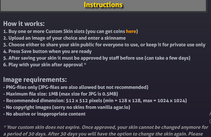 you can also share your custom publically as well as private.
Thanks.
Username:Asad111