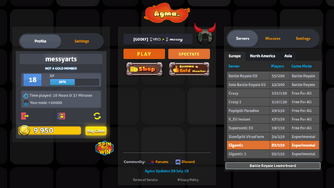 If you are stuck and/or confused on how to navigate the Main Menu of agma.io, I got you covered!
Profile Button
This shows the stats of your account. You can purchase a gold membership here, purchase coins, logout of your account, add/remove friends, and a respawn button with Total Time Played, and your worldwide rank.
Settings Button (left)
Here, you can change various things such as disabling your gold crown in chat, setting skins on minions, allowing party invitations (aka. joining a team), and others.
Servers Button
This button allows you to choose from many various servers such as Gigantic/Giant, Supersonic, Crazy, and many others. You can also choose your region for less lag. 
This button shows the current highscores for the most amount of levels earned (worldwide). You can also check out the "More Scores" button, which leads you to an offsite link (secure) which shows more highscores AND shows you most mass earned in  each type of server!
Settings Button (right)
This button allows you to affect in game settings for less lag and more optimization. You can chooseto turn on a dark theme, map border, show skins, infinite zoom, and many other features to discover for yourself!
Middle of the Menu
Most obvious button, join in and play today!
Shop Button
Here, you can customize your blob with wearables, skins, powerups, abilities, minions, and coins! If you want to learn more, please visit this wiki: https://agmaio.wikia.com/wiki/Shop/Items/Powerups
Becoming Gold
This button allows you to buy a gold membership for real money. $4 for 1 month, sounds like a great deal for the features it gives you.
Changing Skins
This button will bring you to the Shop, but in the skins section.
Spectate Button
This button allows you to spectate the map at its current stage, as well as spectating the biggest blob and their situation.
Other Buttons
The community has a discord server and its own Forum! Join agma.io to enter! (http://agma.io/?in=199077)
Conclusion
If you made it this far in the article, congrats on reading this! If you learned anything, I am glad to help you! Thank you for reading my article.
Made by: messyarts