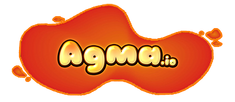 Welcome to the Agma.io Wiki, Powered by Agma.io Fan
Agma.io is a MMO game the goal of the game is to gain as much mass as possible by eating food and other players smaller than you, while avoiding larger players. Agma has progressed from idea to development over the course of nearly three years.
Before Agma.io was designed and made, there use to be a different game that Agma players use to enjoy. It use to be called Agarioforums.io. Better known as AGF. AGF had many servers and players worldwide. Agma and AGF.
Agma.io Blog and Forums
Agma.io has a blog created and sustained by Squid, a an agma player and owner of the agmaforum.com community. The Agma.io Blog contains news and information about Agma, updates, features, tips, tricks, and free giveaways such as bots and coins.

Blog link:
Agma.io Forums Daily Reward
AgmaForum.com has frequent giveaways of bots/minions and coins. You have to sign up at the forums, and make some posts. The forum owner Squid will reward your agma account with bots or coins, completely for free.
Agma-Forums link: