Miracle Script
Ok, so you may have been playing Agma.io before and have seen someone's blob make a weird face, or spin, or shake, or maybe even jump. Well, that's what's called "Emotes"! Also known as the "Miracle Script"
there is 5 different emotes you can do, wacky, shake, spin, jump, flip. How you do these is you hit the enter button on your keyboard or you click the chat on the bottom left of your screen and type, "/wacky", "/shake", "/spin", "/jump", or "/flip". and your blob will do one of those emotes you type in.
You can also combine those emotes together like this "/wachyshakespinjumpflip" and do all of those emotes at once!! pretty cool right?

You know how i said theres 5 emotes? Well... I lied... There is actually another 3 emotes that you can do. These emotes are pretty cool and stand out from the other 5 emotes.
More Emotes?
These 3 emotes can be found by right clicking your agma.io blob, looking all the way down and finding "Emotes". If you click "Emotes", there will be 5 different emotes, (one which is locked for right now) and one of them is wacky, which we already learned.
These 3 emotes consist of Waving, Mindblown, and love!
You can also do these emotes by using a command. To do the wave emote, in the chat type, "/Wave".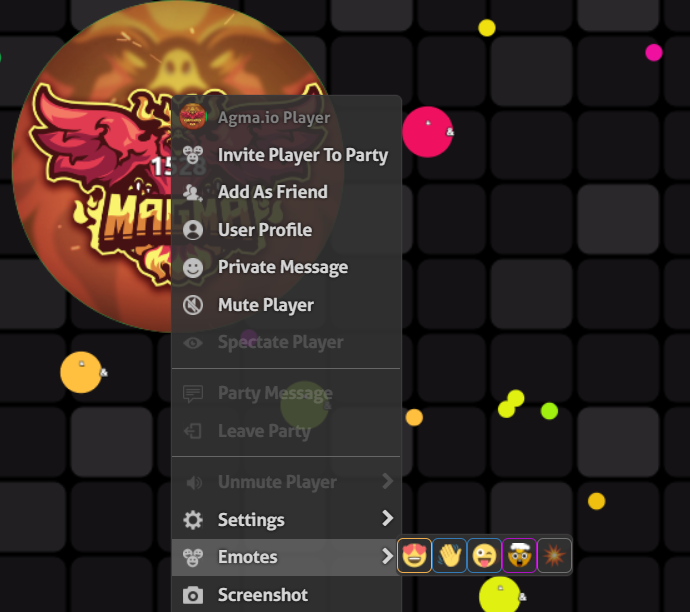 (P.S. this is the only one i know how to do in chat out of the 3 as of right now!)
Party Emotes
There's also a different kind of emote called "Party Emotes" this is when you type one of those emotes in your party chat, everyone in your party, will do that emote!!! You MUST be in a party for this to work.
To find party chat, go down to the bottom left of your screen and you should see "Party" click on that. and if your in a party, type one of those emotes, and everyone in the party should do it!
Chat Commands

This next part isn't about emotes, its about the rest of the Chat Commands! These will not work if you type it in party chat, only Public!

there are 5 different chat commands that you can do!

Chat Command #1: "/coins" -- this command will reveal how much coins you have for example if I type "/coins" the chat will say "📢:Tkuski08's Coins 34,750"

Chat Command #2: "/rank" -- this command will reveal your agma.io rank! your rank is just how far you are on the leaderboard, if you just started agma.io yours should be 50,000.You get a higher rank by your high score, if you get huge and a lot of mass. For example, if I type "/rank" the chat will say "📢:Tkuski08's Rank Is 6197"

Chat Command #3: "/level" -- this command will reveal your agma.io level. You level up by playing more. The more you play, and the bigger you get, the faster you will level up. For example, if I type "/level" the chat will say "📢:Tkuski08's Level Is 80"

Chat Command #4: "/hours" -- this command will reveal how long you have played agma.io. For example if I type "/hours" the chat will say "📢:Tkuski08 Has Played For 422 Hours & 54 Minutes"

Chat Command #5: "/stats" -- This command will reveal your agma.io Battle Royale stats. For example, if I type "/stats" the chat will say "📢: Tkuski08's Battle Royale Stats -> Wins: 22, Kills: 1457, Points: 2351, Matches: 1063"

Well, this is all there is for Emotes & Chat Commands, I really hope this was able to help anyone reading this!

P.S. if your new to agma.io, you can support me by signing up with this link: https://agma.io/?ref=1872524117 Thanks!

My agma.io username: Tkuski08