Pls GIft me Name:ardale123asd Thx
Monedas 5567895
(Parece que este artículo solo funciona en el escritorio [para mí], ¡así que trate de no leer esto a través del móvil!)
`Tienes que tener una mente artística, por un lado.`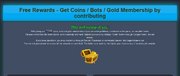 Primero, debe ir al siguiente enlace:
Este enlace tiene la información, las recompensas y las tareas para completar para obtener sus recompensas. Hay 5 tareas en total.

Tarea 1:  crear un video profesional de YouTube para el canal de Agma
Recompensas:
- 250k - 1M monedas

- 12
mes de membresía Gold
- Bots5555
Cómo completar esta tarea:
debe grabar y editar un BUEN video de agma.io. Tiene que ser muy interesante de ver. No cargue el video en su canal de YouTube, en su lugar cárguelo en Google Drive o MediaFire. Después de que el video se cargue en el canal de YouTube de Agma.io, ¡recibirá sus recompensas!


Tarea 2:  Grandes YouTubers, Grandes Recompensas
Recompensas:
- 100 - 500 euros (dinero real)
Cómo completar esta tarea:
YouTubers con más de 10 mil suscriptores recibirán la recompensa por cada video de Agma que carguen. O puede contactar a un YouTuber para inscribirse en esto y, si están de acuerdo, permitirle que le paguen el 40% de la comisión, después de que hablen con el YouTuber.

Tarea 3:  presentar nuevas ideas
Recompensas:
- 50k - 2M monedas
- 1 mes de membresía Gold
How to complete this task: You need to come up with a new idea for Agma.io which will benefit Agma, and can be anything in your creativity. You can think up new powerups, game mechanics, skills, design, minigames, functionality, websites, social media, or even a new task. Anything you think will make Agma.io a better game to play.

Task 4: Write articles for Agma.io wiki
Rewards:
- 100k - 5M coins 
- Membresía Gold de 1 mes
- Bots
How to complete this task: If you know some things about Agma that other may not know, you can write articles for the wiki: https://agmaio.fandom.com/wiki/
You can make any article which will benefit the wiki and possibly game in some way. Like explaining this. You need to first register an account for the wiki if you haven't already, then you go to the link, and click add, near the top right corner of the page. Then start making some articles!
Task 5: Create/design a banner/header
Rewards:
- 250k - 2M coins
- 1 month Gold Membership
How to complete this task: You need to create a new banner, header or advertisement image for agma.io. You need to make a better one than the current ones. You can make them for Bots, Coins, Items, Gold Member, and Agma. The better the design, the more the coins!

¡Así que esas son las formas de ganar monedas, bots y membresías gratis! Si carece de la creatividad por alguna razón al azar, no intente piratear monedas, bots y membresías. Puede leer mi artículo de Agma sobre eso, llamado  ¿Por qué nunca debe usar Agma.io 'hacks' !