The struggle is real. You're just a small blob, trying to get bigger to eat other blobs. Oh, I forgot to mention, other blobs can eat you too. This might seem hard and fun at first, but after some time, boredom takes over. Many good .io games have been found, played, and thrown away. The community of players can move on from one game to the next in a matter of days. This is a big problem most .io games are dealing with nowadays, but Agma.io has found a way to conquer this obstacle. Agma.io is a unique game, different from any other sort of .io game out there. It's powerful fanbase, amazing graphics, in-game abilities, decorative items, and servers constantly has it growing every day. 
Agma.io isn't just about eating people. Regular .io games restrict the ability to macro (feed fast), intimidate others, and freeze yourself. With Agma.io, these powers and much more are available with just a click of a button. The powers cost gold, which can be acquired by eating coins in the arena. The usage of powers allows players to capture, intimidate, and eat enemies. For example, a recent "intimidation tool" that Agma.io has added is the /shake, /spin, and /flip tools. They allow your blob to shake, spin, and flip to ward off other players. Also, the freeze power, obtained from the shop, is useful when accidentally splits. The player's blob will freeze to its place, unless otherwise unfrozen by the player. The picture below shows the broad selection of powers the game has to offer, plus other decorative items to show others who is boss.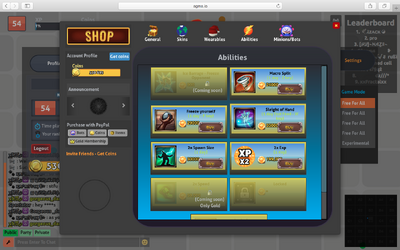 In addition to powers, Agma.io has different gamemodes to keep players occupied. One might be the best player at the server X-Insta and completely suck when playing in the server Splitrun Paradise. There is little to no similarity between two servers, even though the intentions of the servers are the same. As of 2/15/2018, there are 10 servers in the game, with different players in each. Crazy, Crazy 2, Popsplit Paradise, X_EU Instant, SlowSplit VirusFarm, Agarioforums.io, Splitrun Paradise, X-Insta, XY-Insta, and FastSplit VirusFarm.
Since the removal of Bots from Agar.io, many others have been searching for a game that allows bot play. In Agma.io, allows players to acquire bots free through service in the Agma Forum, or from buying them from the shop. What a relief! 
Agma.io has two forms of membership, Gold, and Normal. In order to gain a normal membership, one has to simply register an account. It's all free! However, in order to acquire Gold membership, the player must buy the membership from Agma.io. Unlike other .io games, 20% of the money gained through Gold membership is sent to help SOS-Children's Villages, an independent, non-governmental international development organization, whose goal is to help sponsor poor childrens education.  An excerpt from Agma.io is included below.
"By upgrading your account, you support the project of Agma and the expenses which are followed by hosting the game. We truly appreciate your contribution. It means a lot to us, and we wish to thank you in any possible way. Therefore, we have included a list of names of contributers. The list is sent forth as a donation stamp including 20% of your payment to the organization of SOS-Children's Villages. We know that a lot of children around the world live in difficult environments with no economic strength, rendering them completely unable to even be as close as you are, to playing an online game. With hunger, sickness, and poverty, they strive throughout the day. With your help, and our donations, we wish to give a little portion (and as much as we can) to be a part of the community which makes a difference. Even small amounts of donation makes huge differences for poor children. It can mean the difference of saving a child from hunger. We wish to take this ethical stance by including it in this game. Just imagine if everyone could give a little more than what they take. Small steps are big steps. The best part for you, is that you will both benefit from agma GOLD member features, and contribute to charity at the same time. Yours gratefully, Agma Team"
Speaking of the Agma Team, they always are "more than happy to help. Most .io games don't have active staff members to handle problems in the games" (Zora - Owner of RTT Clan). They are friendly, and are willing to help others with problems in the game. They are open to any ideas, and are a no-nonsense Anti-Bullying crew.
Agma.io has gained about 7,000 subscribers on YouTube, tens of thousands of players around the globe, and is still rapidly growing. I personally have been with the game since its old form, agarioforums.io, and many, if not all, of the original players still remain. I highly reccomend playing this game, and really love the community it has built. Thank you for your hard work Agma.io!
-StylinAgma