This is a page containing information about all ingame items and their functionality.
Game Inventory
All powerups displays in your agma game inventory, at the bottom of your screen. You must be logged in and have an item in your inventory to see it.

Game Shop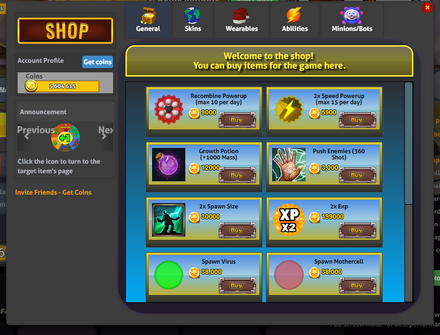 The game shop lets you purchase items, wearables, skins, powerups, and bots/minions.
-
-
-
-
-
-
-
-
Powerups
Recombine Powerup
Speed Powerup
Growth Powerup
Freeze Powerup

Instantly combine

all your cells

gain 2x speed
gain +1k mass
Freeze your opponent
How to get power-ups while playing
Power-ups are also accessible by going to the rooms located outside of the maps. In NA agarioforums, the room is located in a passage between E1 and E2. Other servers have them in different locations, but all of the rooms are located near the bottom left corner. One way to find the room is slide from the center bottom of the map and and cautiously slide to the bottom left. Servers such as FastSplit VirusFarm and SlowSplit VirusFarm do not have the rooms. Once inside the room, you will have to wait for the items to re-spawn if there aren't any in there currently. There will also be a purple shaped item in the room at the bottom left, which is known as a portal. If you enter it, you will teleport to the top left of the map. If you shoot enough mass into the portal, it will eventually drop out more mass. Its is not recommended, however, because the mass in the corners will spawn out players if you do not eat them fast enough.