Teaming in agma.io is a nessaccary tool to help you achieve that #1 spot. In this article, you will learn the basics of teaming, such as tricksplitting, popsplitting, splitrunning, etc.
Finding a partner

Finding a partner on agma.io is simple! You can: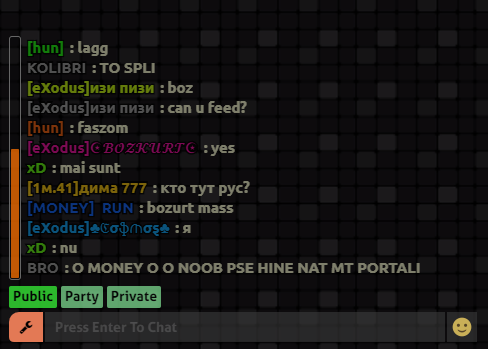 Join the Agma.io discord server to find some teamates! (Invite code: https://discord.gg/EqqYuQu)
Try to communicate with people in the chat! 
If you are a guest, I suggest making an account on agma.io for a better experience! (http://agma.io/?in=199077)
Types of Splits
There are various amounts of splits, such as tricksplitting, linesplitting, popsplitting, licksplitting, and many others!
Tricksplitting:
Tricksplitting is when you have 2 people next to each other with an enemy next to them. The first player qucikly splits into 6-8 pieces, and the other player splits once to gain the teammate's mass, then if you are close enough to the enemy, you will also gain their mass.
Popsplitting:
Popsplitting can be done mostly solo, but can also be done together (if possible, not sure.) First, an enemy should get near a virus. Next, you should get near the enemy, and split 3-4 times on the player. What this will do is the enemy will gain mass, but the virus would split them up, which makes you gain the mass you lost back. (If this sounds confusing, sorry!)
Also, the types of splits that are in italics, those will not be mentioned since those are really tough to discuss. Sorry, but you can look on YouTube! 
Achieving the #1 spot
Achieving the #1 isn't easy, but also isn't too tough. Your team should try to use the tips I mentioned to you earlier, to try to achieve the #1 spot! I reccomend the Gigantic servers, because those servers are really tough, which would make you learn much faster!
Using powerups
There is an article on powerups, but you can always use powerups to your advantage! Powerups are a neat tool created by agma.io, which have different abilities. One can spawn viruses, once can split an enemy, and much more! If you want to know more, please visit: https://agmaio.wikia.com/wiki/Shop/Items/Powerups

Conclusion
Teaming in agma.io can be a little overwhelming for some, but can also be really fun! Be careful though, the bigger blobs can do the same! If you did not learn much about teaming, please let me know! Contact me here: messyarts#1697
Article made by: messyarts