The Wheel of Fortune is a feature in Agma.io that allows you to possibly win a reward for free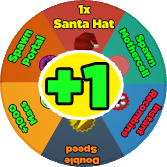 Features/Location/
You must have an account in order to use the wheel of fortune. After you have logged on, there is a small hexagonal sign in the lower right of your profile that reads "Spin to Win", under the "Did You Know" section. When you click this, you will get a small popup of the wheel along with two options "Spin to win" and "Add Spin".  The wheel has 6 possible rewards listed in a circle.
The former allows you to spin the wheel , while the latter takes you to the shop, where you can buy a spin for 16,000 coins.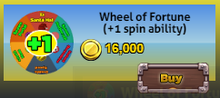 Every 24 hours, the player gets a free spin which can then be used to spin the wheel.
Before the free spin is executed, there is always an ad played before the wheel is actually spinned.
Possible Rewards
-Instant Recombine: gives you a free recombine which can merge your cells when pressing "E" (saves you 9,000 coins)
-2X Speed: makes your cell go faster when pressing "S" (saves you 5,900 coins)
-Mothercell (saves you 38,000 coins)
-50K coins
-Portal (saves you 39,000 coins)
-1000 Mass growth potion (saves you 12,000 coins)
-1 Santa hat (wearable)
-Nothing
-Gold Block (saves you 45,000 coins)
-Freeze (saves you 8,000 coins)
-Push (saves you 3,000 coins)